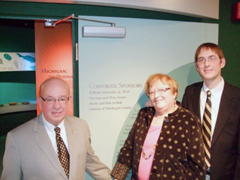 Merle, Mike, and Bob atthe March 2010
opening of the Lakeshore Museum's new
Natural History Gallery.
Contact Me
Mailing address:
The Committee to Elect Bob Scolnik
4460 Cherrywood Ct.
Muskegon, MI 49441
phone: (231) 798-2828
fax: (231) 798-2424
E-mail Bob Scolnik
Bob feels very strongly that he provides important balance to the County Commission. His experience and proven record make him the right choice for County Commissioner.
My Campaign