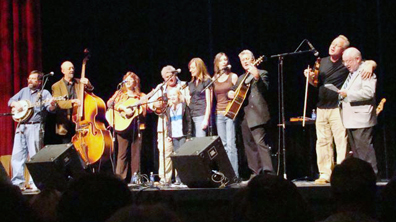 Thank you for visiting my site and for giving me this opportunity to let you know about me and my campaign to be your County Commissioner. Thank you for your support. I will work to continue the growth and prosperity of Norton Shores and all of Muskegon County.
Thank you!
Bob Scolnik
About Bob
Born in Albany, New York, Bob Scolnik has lived in West Michigan for the past 50 years. He lives in Norton Shores with his wife Merle They have been married for 50 years and Merle was a Special Education teacher for Muskegon Public Schools for over 30 years. They have two children, Amy and Michael and two grandchildren, Mara, age 21 and Ethan who is 19.
Bob attended Hobart College in Geneva, New York, graduating in 1966 with a Bachelors Degree in Economics. Following college, he enlisted in the U.S. Army and following basic training, entered Officer Candidate School. Finishing in the top 10 in his OCS class, Bob was commissioned a Second Lieutenant and served four years on active duty. He served for 13 months in Korea and also served on temporary duty in Vietnam. He was promoted to Captain and after returning to the US, Bob was assigned to Grand Rapids where he served as the Senior Advisor to the Army Reserve in Western Michigan. Bob received two Army Commendation Medals while on active duty.
Following his service in the Army, Bob settled in Western Michigan and started his first business with the Snap-On Tools franchise for Muskegon. Bob's hard work and attention to customer service helped build the business and just prior to his selling the business, his franchise was ranked in the top 75 of several thousand franchises throughout the United States.
In 1977, Bob purchased Muskegon Brake & Distributing. He used the same principles of hard work and constant attention to customer service to build this business into one of the largest brake, suspension & snowplow specialists in Michigan. In 1990, Bob was named Muskegon County's Entrepreneur of the Year for his business success.
In 1991, Bob ran a successful campaign for a seat on the Norton Shores City Council. He was re-elected 3 more times, finally resigning in 2002 when he decided to run for County Commissioner. A provision in the Norton Shores city charter requires an elected official to resign when running for another elected office, so Bob resigned his City Council seat effective May 14, 2002. Bob felt very strongly that Norton Shores was not fairly represented on the County Commission and that a better balance was needed in our government. He felt that this was the time to run for this seat, and his successful business experience combined with his long experience on the city Council made him the best choice for County Commissioner.
Besides his business and city council experience, Bob has been extremely active in our community. He is a pro-active community leader who has made time for many non-profit organizations and has been willing to accept leadership roles. Bob served on the board of the Michigan Pine & Dunes Girl Scout Council for many years, serving as its President for six years. He was on the board of the Muskegon Area Chamber of Commerce, and has served as Chairman. He has been President of the Muskegon Rotary Club, Chairman of the United Way board, President of Hackley Visiting Nurses and Hospice, a Past President of the Friends of the Norton Shores Library, a founding board member of the Muskegon Film Festival, and also serves on the boards of the Muskegon County Museum and the Mona Lake Improvement Association. Bob has been Chairman of the Muskegon County Republican Party. Bob is a Life Member of the NAACP. Bob's involvement in these many community activities gives him a unique look into the needs and possibilities in Muskegon County.
Bob has received numerous awards for his community work. He was named a "Muskegon Agent of Change" for his leadership and commitment to positive change in Muskegon County by the Muskegon Area Chamber of Commerce. He received the Edgar Guest Award from the Muskegon Masonic Temple for his community work and he received the prestigious Liberty Bell Award from the Muskegon Bar Association for his community work and leadership. He also received the 2007 Hackley Quality of Life Award from the Hackley Hospital Cornerstone Foundation and he was recognized for his leadership during 2007 as the United Way Campaign Chairman.
Bob is in his eighth term as a Muskegon County Commissioner. He is an important voice on the County Commission and served as Chairman of the county's important Community Development and Strategic Planning Committee. Under his leadership, the important Phosphorus ban ordinance was completed and passed, receiving state-wide recognition. He also took on the important task of reorganizing the leadership of the Muskegon County Road Commission and their pay and benefit package. He has not been afraid to speak his mind and he has been an important and influential voice on the county commission.
Reelecting Bob Scolnik to the Muskegon County Commission will give the citizens of Norton Shores a leader with a terrific track record and experience as their representative.
Bob feels very strongly that he provides important balance to the County Commission. His experience and proven record make him the right choice for County Commissioner.
My Campaign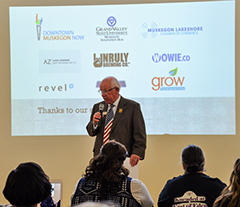 Bob speaks to contestants in a recent Retail Entrepreneur competition at the Muskegon Innovation Hub. The contestants presented their ideas for new businesses to a panel of judges with the winner receiving about $20,000 in prizes and support.